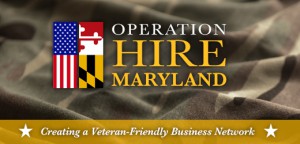 Registration is now open to government and private sector employers and human resource professionals for participation in our first networking meeting.
Tuesday, October 27, 2015
Hyatt Regency Chesapeake Bay
8:00 Registration and Breakfast, 9:00-11:00 Meeting
REGISTER HERE
The mission of Operation Hire Maryland is to create an ongoing program which supports employers as they develop or expand upon their veteran hiring and retention initiatives. Through the collaboration and efforts of Operation Hire Maryland participants, a veteran friendly business network will be established to share best practices and proven methods for veteran recruitment, hiring, on boarding, and retention in the civilian work place.
ELIGIBILITY: Businesses as well as federal, state and county/local governments who possess a Federal Tax ID Number are eligible to participate. Employers are not required to be based in Maryland; however for purposes of pledging hires, Maryland residents who have served in the military must be those hired.
REGISTRATION: (If you participated in 2014, please complete a new application, as the registration process has changed.)
1. Download and complete the Operation Hire Maryland Participant Application.
2. Return the completed application to Operation Hire Maryland, by email todana.hendrickson@maryland.gov
3. Once your application is reviewed, you will receive a confirmation letter by email along with the Operation Hire Maryland logo (jpg format), with permission to use the logo to highlight participation in the program.
PARTICIPATION REQUIRES:
For each quarter, when prompted, report veteran hires to Operation Hire Maryland, by email todana.hendrickson@maryland.gov
Within your first year as an employer participant, attend at least one Operation Hire Maryland training or networking event
WHO CAN BE COUNTED AS A HIRE?
An individual who served in the active duty component of the U.S. Armed Forces and who received a discharge of other than dishonorable
An individual who has served, or who is currently serving, in the national guard or reserve component of the U.S. Armed Forces, and who received a discharge of other than dishonorable
Networking Events:
The goal of the networking events will be to allow Operation Hire Maryland participants, and employers interested in participating, to hear from leading veteran recruiters on best practices as well as to network. Additionally, employers who are leading the program in veteran hires in that specific region will be recognized.
Save the Date! 2016 Networking Meetings
January 28, 2016
Farmers Insurance
Owings Mills, MD
April 26, 2016
CareFirst of MD, Inc.
Cumberland, MD
EMPLOYER RESOURCES:
To learn more about how to recruit, onboard, and support veterans in the workplace, visit theMDVA Employer Tool Kit.
To share job announcements:
To view the list of Operation Hire Employer Participants with employer contact information. (updated September 10, 2015)

Print the Operation Hire Maryland flier here.

For more information on Operation Hire Maryland contact: Dana Hendrickson Director, Outreach and Advocacy Maryland Department of Veterans Affairs 410-260-3842 dana.hendrickson@maryland.gov